Toxic love disorder refers to the detrimental effects of harmful relationships on mental health, highlighting the profound impact such dynamics can have on individuals' emotional and psychological well-being.
What Is Toxic Love Disorder?
Toxic love disorder is a term used colloquially to describe the negative and harmful dynamics that can emerge in romantic relationships and other kinds of human relationships. It is not a recognized or diagnosable condition in the Diagnostic and Statistical Manual of Mental Disorders (DSM-5) 1 Maglia, M. G., Lanzafame, I., Quattropani, M. C., & Caponnetto, P. (2023). Love Addiction – Current Diagnostic and Therapeutic Paradigms in Clinical Psychology. (v2). Health psychology research, 11, 70218. https://doi.org/10.52965/001c.70218 , but a proposed clinical condition acknowledged by medical experts across the globe.
Toxicity in this context refers to behaviors and patterns 2 Adamczyk, K., Watkins, N., Dębek, A., Kaczmarek, D., & Łazarów, N. (2023). Relationship (in)congruency may differently impact mental health. International journal of clinical and health psychology : IJCHP, 23(3), 100376. https://doi.org/10.1016/j.ijchp.2023.100376 that are destructive, manipulative, and detrimental to the well-being of one or both partners involved. Toxic love relationships, in essence, represent a relationship characterized by:
Jealousy
Control
Manipulation
Emotional or physical abuse
Lack of trust
Unhealthy power dynamics
Toxic Love Relationships In Films
Films and TV shows often romanticize toxic love relationships by glamorizing problematic behaviors, which can inadvertently influence how society perceives love and relationships.
For instance, popular onscreen couples like Bella and Edward in "Twilight" normalize possessiveness and control, while the characters of Chuck and Blair in "Gossip Girl" display manipulative and volatile dynamics as a form of passion. Similarly, the on-again, off-again relationship of Ross and Rachel in "Friends" portrays jealousy, communication issues, and breakups as a central theme, often masking these toxic elements with humor and drama.
How Common Is Toxic Love Disorder?
As toxic love disorder is not a formally recognized condition, specific statistics on its prevalence are unavailable. However, toxic love relationships can affect individuals of all genders and occur at various life stages 3 Braithwaite, S., & Holt-Lunstad, J. (2017). Romantic relationships and mental health. Current opinion in psychology, 13, 120–125. https://doi.org/10.1016/j.copsyc.2016.04.001 (including childhood, adulthood, and old age) making it a complex and widespread issue that often goes unreported.
Symptoms Of Toxic Love Disorder
The common 4 Sophia, E. C., Tavares, H., & Zilberman, M. L. (2007). Amor patológico: um novo transtorno psiquiátrico? [Pathological love: is it a new psychiatric disorder?]. Revista brasileira de psiquiatria (Sao Paulo, Brazil : 1999), 29(1), 55–62. https://doi.org/10.1590/s1516-44462007000100016 symptoms of toxic love disorder include:
Unexplained physical injuries or ailments.
Changes in sleep patterns or appetite.
Increased stress and trauma from abuse, leading to health issues.
Constant anxiety, fear, or feelings of dread.
Low self-esteem, self-blame, or feelings of worthlessness.
Frequent mood swings and emotional instability.
Isolation from friends and family.
Controlling or possessive behavior.
Manipulative tactics, including guilt-tripping and gaslighting.
Read More About Self-Esteem Here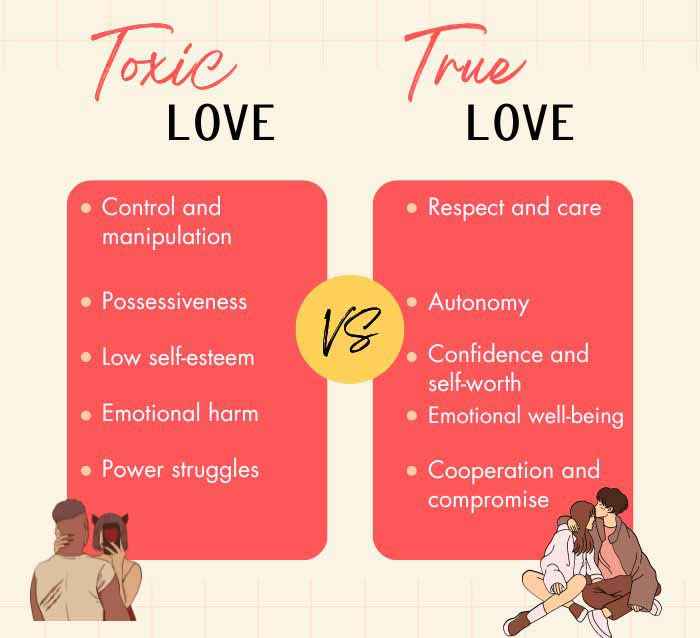 Causes For Developing Toxic Love Disorder
The common 5 Seshadri K. G. (2016). The neuroendocrinology of love. Indian journal of endocrinology and metabolism, 20(4), 558–563. https://doi.org/10.4103/2230-8210.183479 causes behind developing the symptoms of toxic love disorder can include:
Childhood exposure to unhealthy relationship models.
Low self-esteem or lack of self-worth.
Prior experiences of trauma or abuse.
Co-dependency issues (Codependency is an unhealthy relationship dynamic where one person excessively depends on and prioritizes the other's needs, often at their own expense).
Poor conflict resolution or decision-making skills.
External pressures, such as societal expectations or financial stress.
Personal insecurities and unresolved emotional issues.
Read More About Decision-Making Here
Types Of Toxic Love Disorder
The symptoms of toxic love disorder can manifest in various types 6 Bogerts B. (2005). Liebe und Eifersucht bis zum Wahn gesteigert. Wenn der Lebensgefährte plötzlich den Othello gibt [Delusional jealousy and obsessive love–causes and forms]. MMW Fortschritte der Medizin, 147(6), 26–29. , including:
Codependent relationships.
Toxic relationships that involve physical, emotional, or psychological abuse.
Obsessive or possessive toxic love.
Unequal power between one partner in control and the other partner in submission.
Inconsistent, unpredictable relationships with frequent breakups and reconciliations.
Love that revolves around manipulation or control.
Toxic love relationships driven by extreme jealousy or insecurity.
How 'Toxic Love' Becomes A Disorder
Toxic love becoming a disorder typically involves 7 Forth, A., Sezlik, S., Lee, S., Ritchie, M., Logan, J., & Ellingwood, H. (2022). Toxic Relationships: The Experiences and Effects of Psychopathy in Romantic Relationships. International journal of offender therapy and comparative criminology, 66(15), 1627–1658. https://doi.org/10.1177/0306624X211049187 :
Prolonged exposure to harmful relationship dynamics.
Escalation of unhealthy behaviors over time.
Severe emotional or physical harm.
Development of mental health issues like anxiety, depression, or PTSD.
Inability to break free from a toxic relationship due to dependency.
Affecting various aspects of life, impairing one's well-being.
May require therapeutic intervention for recovery.
Read More About PTSD Here
Toxic Love And Mental Health
Toxic love and mental health are inversely linked. When toxicity in a love or relationship dynamic escalates to a clinical condition, it can severely affect an individual's mental well-being. The constant stress, emotional abuse, and manipulation in such relationships can lead to 8 Grundström, J., Konttinen, H., Berg, N., & Kiviruusu, O. (2021). Associations between relationship status and mental well-being in different life phases from young to middle adulthood. SSM – population health, 14, 100774. https://doi.org/10.1016/j.ssmph.2021.100774 anxiety, depression, and in severe cases, even post-traumatic stress disorder (PTSD).
The individual may experience a loss of self-esteem, chronic self-doubt, and feelings of hopelessness, further exacerbating their mental health struggles. These emotional burdens often spill over into other aspects of life, including work performance and overall life satisfaction 9 Downward, P., Rasciute, S., & Kumar, H. (2022). Mental health and satisfaction with partners: a longitudinal analysis in the UK. BMC psychology, 10(1), 15. https://doi.org/10.1186/s40359-022-00723-w . In fact, studies show that 70% of sufferers 10 Padrós Cuxart, M., Molina Roldán, S., Gismero, E., & Tellado, I. (2021). Evidence of Gender Violence Negative Impact on Health as a Lever to Change Adolescents' Attitudes and Preferences towards Dominant Traditional Masculinities. International journal of environmental research and public health, 18(18), 9610. https://doi.org/10.3390/ijerph18189610 show psychological symptoms or develop unhealthy coping mechanisms.
In the workplace, the mental health impact of toxic love disorder can manifest as reduced concentration, lower productivity, and increased absenteeism. The emotional toll of toxic love relationships can be all-consuming, making it difficult for individuals to focus on their tasks and responsibilities. Furthermore, these effects can extend to personal life, causing social isolation and strained relationships with friends and family.
Toxic Love And Mental Health In Different Domains Of Life
The symptoms of toxic love disorder can impact different domains 11 Umberson, D., & Montez, J. K. (2010). Social relationships and health: a flashpoint for health policy. Journal of health and social behavior, 51 Suppl(Suppl), S54–S66. https://doi.org/10.1177/0022146510383501 of life:
1. Toxicity in family:
Toxic love relationships within a family can lead to strained dynamics, emotional turmoil, and alienation among family members, affecting overall well-being and mental health.
2. Toxicity among friends:
Toxic friendships can erode trust, cause emotional distress, and lead to isolation, potentially hindering personal growth and happiness.
3. Toxicity in romantic relationships:
Toxic love relationships can result in severe emotional and physical harm, eroding self-esteem and causing long-lasting psychological trauma.
4. Toxicity in the workplace:
Toxic work relationships can create a hostile environment, contribute to job-related stress, and hinder professional growth.
Read More About Workplace Stress Here
5. Toxicity among elders:
Toxic love relationships in older age can lead to increased vulnerability, loneliness, and deteriorating mental and physical health, affecting the overall quality of life.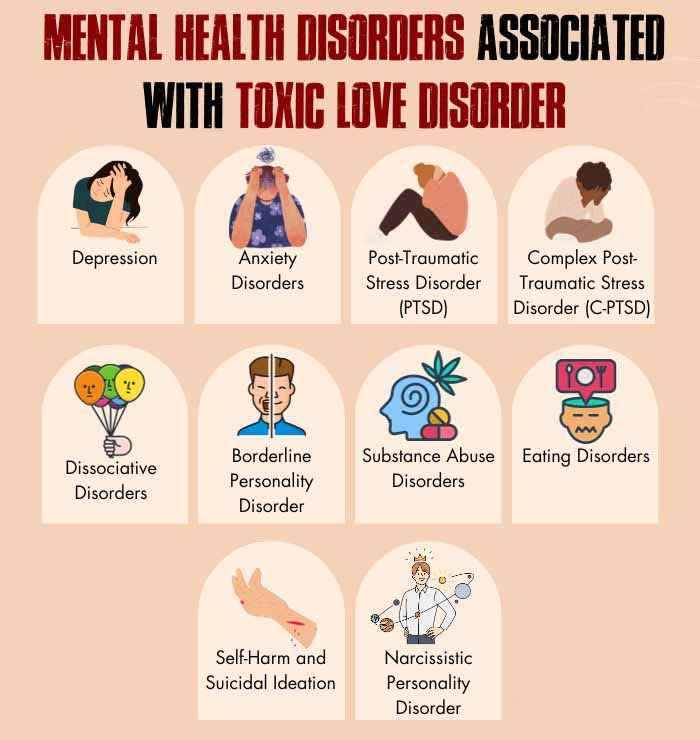 Coping With Toxic Love Disorder
Coping with the symptoms of toxic love disorder often involves a multi-faceted approach 12 Halpern-Meekin, S., & Turney, K. (2023). Romantic Unions and Mental Health: The Role of Relationship Churning. Journal of health and social behavior, 64(2), 243–260. https://doi.org/10.1177/00221465221126091 . Seeking professional therapy, such as individual counseling or support groups, is essential for gaining insights, developing measures on how to leave a toxic relationship, and healing from the trauma associated with toxic relationships.
Self-help techniques, including mindfulness, self-care practices, and setting boundaries, can empower individuals to regain a sense of control and self-worth. Support from friends and family who provide a safe and understanding environment is also invaluable, as it helps individuals rebuild their social networks and foster healthier relationships.
How To Leave A Toxic Relationship
Leaving a toxic love relationship can be a challenging and sensitive process 13 Fiorillo, A., de Girolamo, G., Simunovic, I. F., Gureje, O., Isaac, M., Lloyd, C., Mari, J., Patel, V., Reif, A., Starostina, E., Summergrad, P., & Sartorius, N. (2023). The relationship between physical and mental health: an update from the WPA Working Group on Managing Comorbidity of Mental and Physical Health. World psychiatry : official journal of the World Psychiatric Association (WPA), 22(1), 169–170. https://doi.org/10.1002/wps.21055 . Consider the following measures on how to leave a toxic relationship:
Recognize the toxicity and its impact on your well-being.
Prioritize safety, especially in cases of physical abuse.
Seek support from friends, family, or a therapist.
Plan your exit carefully, considering safety, documents, and finances.
Communicate your decision with clear boundaries.
Stay committed to your well-being and healing.
Consider professional help for support.
Try to maintain no contact with the toxic person.
Focus on self-care and personal growth.
Supporting A Person To Overcome Toxic Love Disorder
Supporting a person to overcome toxic love disorder commonly involves 14 Hannighofer, J., Foran, H., Hahlweg, K., & Zimmermann, T. (2017). Impact of Relationship Status and Quality (Family Type) on the Mental Health of Mothers and Their Children: A 10-Year Longitudinal Study. Frontiers in psychiatry, 8, 266. https://doi.org/10.3389/fpsyt.2017.00266 :
Listen actively: Be an empathetic listener without judgment.
Encourage therapy: Suggest professional help like counseling or support groups.
Respect their decisions: Let them make choices about their recovery.
Offer a safe space: Provide a supportive and non-judgmental environment when it comes to toxic love and mental health.
Help with practicalities: Assist with tasks like finding housing or legal matters.
Check-in regularly: Maintain open communication to ensure their well-being.
Promote self-care: Encourage healthy habits and self-love.
Be patient: Recovery takes time. So, avoid pushing too hard and take time to heal.
Read More About Self-Love Here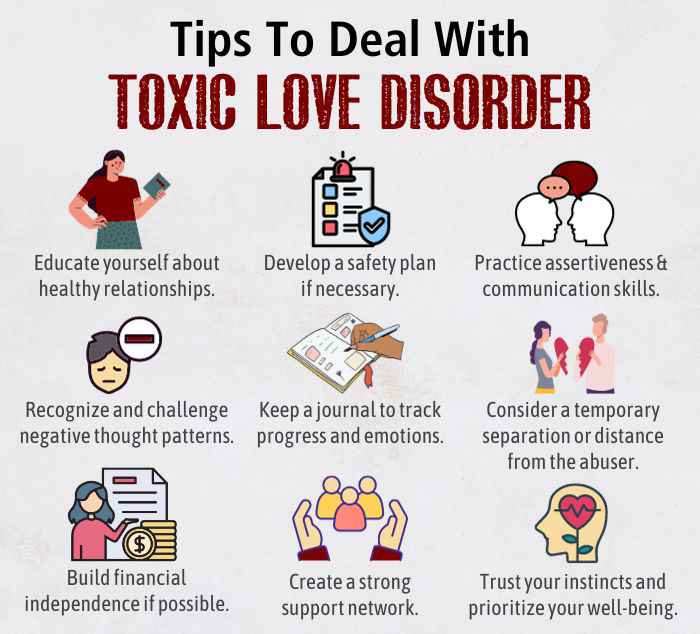 Takeaway
Toxic love disorder, despite being an informal condition, can profoundly impact a person's mental health and social relationships. Recognizing the signs, seeking support, and taking steps to heal and break free from these harmful relationships are essential for fostering a healthier, more fulfilling life. While the journey to recovery from toxic love disorder may be challenging, it is a crucial step towards reclaiming one's well-being and ultimately finding the love and happiness they deserve.
At A Glance
Toxic love disorder is an informal term for harmful relationship dynamics in any age, gender, or stage in life.
It is not a recognized clinical condition.
It encompasses control, manipulation, and emotional abuse in relationships.
Symptoms of toxic love disorder can be triggered by previous experiences of trauma, personal insecurities, poor life skills, etc.
Symptoms of toxic love disorder include emotional distress, isolation, and manipulative behaviors.
Toxic love and mental health are inversely related, impacting work performance and personal life.
Coping strategies include therapy, self-help, and support from friends and family.
Measures on how to leave a toxic relationship include careful planning and ensuring safety.
Supporting someone with toxic love disorder entails listening, encouraging therapy, and creating a safe environment.
Frequently Asked Questions (FAQS)
1. Why Is Toxic Love Not Love?
Toxic love is not love because it involves unhealthy behaviors, manipulation, and harm, which are incompatible with the respect, care, and support that characterize genuine love.
2. When Can Love Become Toxic?
Love can become toxic when it becomes controlling, possessive, or abusive, causing emotional or physical harm to one or both individuals involved.
3. Can Toxic Love Be Fixed?
Toxic love can sometimes be fixed through therapy, self-awareness, and a commitment to change, but it depends on the willingness of both parties to address and resolve the underlying issues.
References: