Bibliotherapy refers to the practice of reading or therapeutic storytelling to deal with cognitive and behavioral issues.
What Is Bibliotherapy?
Bibliotherapy is a type of creative arts therapy in which the process of reading, reflecting, and discussing literature is employed to further a cognitive shift and address mental health issues 1. It can be alternatively called "book therapy" or "poetry therapy", depending on the type of text selected for therapy.
Bibliotherapy is an age-old practice, dating back to the ancient Greeks. Philosophers such as Diodorus Siculus, Galen, and King Ramses II of Egypt were known to support great libraries, dubbing them "the house of healing for the soul".
In the medieval and early modern periods, books (like the Quran and the Bible) used to be prescribed in mental asylums for the treatment of disorders.
While reading has been incorporated in treatment plans by several practitioners over the centuries, it was only in 1916 that the American essayist Samuel McChord Crothers formally coined the term 2 "bibliotherapy" in an Atlantic Monthly article. It eventually found its way into the medical lexicon, especially during the two world war years.
How Does Bibliotherapy Work?
Bibliotherapy taps into the therapeutic and healing art of book reading 3. A typical therapy session involves a therapist trained in bibliotherapy prescribing a list of books for you to read.
The books usually relate to the cognitive and behavioral problems you might be experiencing. Sometimes the therapist may discuss the content from the prescribed books with you and answer any questions you might have. Else, they may simply assist you in selecting appropriate books for you to read.
Bibliotherapy can also be self-administered. Several online sites and databases exist that suggest or recommend book titles and articles based on specific mental health issues.
However, like any other creative arts therapy (such as music or drama therapy), bibliotherapy can not be administered independently. In most cases, it is used as a complementary non-pharmacological treatment 4.
Read More About Music Therapy Here
Types Of Bibliotherapy
Bibliotherapy can be administered in several ways. The different 5 bibliotherapy techniques include:
1. Developmental Bibliotherapy
Developmental bibliotherapy is generally used in addressing issues that might arise in classrooms such as bullying. Mostly employed by teachers and school counselors, this type of therapy uses relevant material that provides knowledge, language, and skills to children and adolescents to address developmental challenges.
Developmental bibliotherapy is often recommended for the cognitive growth of gifted students.
2. Clinical Bibliotherapy
As the name suggests, clinical bibliotherapy is used by psychologists in a therapy setting to address behavioral or emotional problems in clients. In this type of therapy, books are prescribed for people to get a better insight into their condition and possible cognitive distortions. Self-help reading materials and workbooks can be used to address a variety of mental health concerns.
3. Creative Bibliotherapy
This type of bibliotherapy utilizes imaginative literature (such as novels, short stories, plays, poetry, etc.) to improve people's psychological well-being and quality of life. Creative bibliotherapy encourages a person to read about other people who might have gone through similar tribulations and perhaps gain inspiration from their experiences.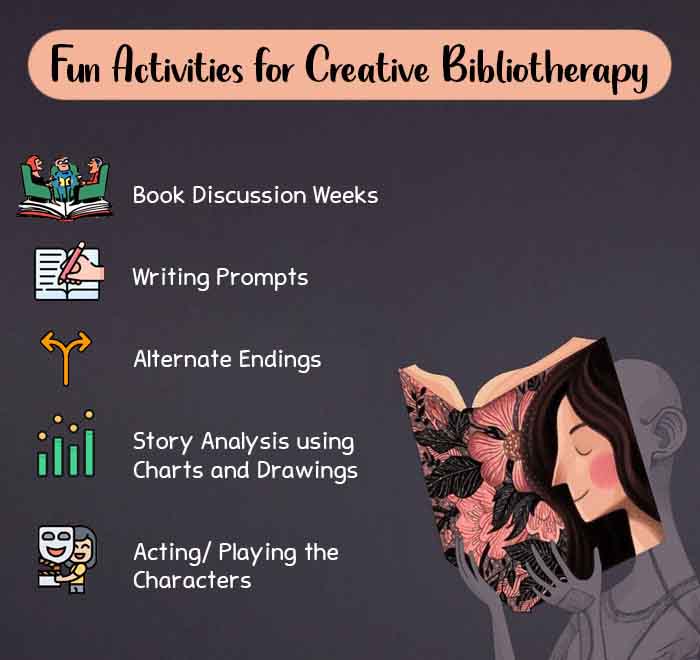 Benefits Of Bibliotherapy
The benefits of bibliotherapy in adults are plenty 1.
Bibliotherapy can help a person:
Gain life skills like problem-solving, conflict management, etc.
Gain insights into personal challenges and existential concerns (related to ideologies, freedom, mortality, life satisfaction, etc.)
Boost creativity
Develop empathy, self-expression, and self-awareness
Understand social relationships, family dynamics, and dysfunctional relationships
Improve vocabulary, general knowledge, and self-help strategies
Enhance mental well-being
What Are The Uses Of Bibliotherapy?
The importance of bibliotherapy in mental health care has received ample attention. It not only plays a significant role in reducing stress and mental fatigue but also helps in treating psychiatric disorders 6 like:
Depression [Read more]
Anxiety and panic disorders [Read more]
Grief [Read more]
Social withdrawal
Obsessive-compulsive disorders [Read more]
Trauma and stress disorders (like PTSD) [Read more]
Attention-deficit hyperactivity disorder (ADHD) [Read more]
Substance use disorders
Eating disorders [Read more]
Sleep disorders, etc. [Read more]
How To Get Started With Bibliotherapy?
Bibliotherapy is a rather unconventional form of therapy 7, and it's alright if you feel a little apprehensive about the results. Consider the following measures for an easy start with bibliotherapy:
Research and find out if bibliotherapy is the right fit for you. If you do not enjoy reading or have reading/ learning difficulties, you may not adapt to it as well.
Find a professionally qualified therapist who will help you understand your strengths, needs, and abilities related to reading books.
Communicate openly with your therapist and be regular in your therapy sessions and homework for the best outcome.
To get yourself into the habit of reading, choose genres that you enjoy. At the same time, try experimenting with new genres that broaden your horizons.
Aside from the books recommended by the therapist, you may also consider splurging on the abundant flora of self-help literature.
Reading in a group or with friends can spell great wonders for your mental health. Organizing or participating in reading groups can be a great way to socialize as well.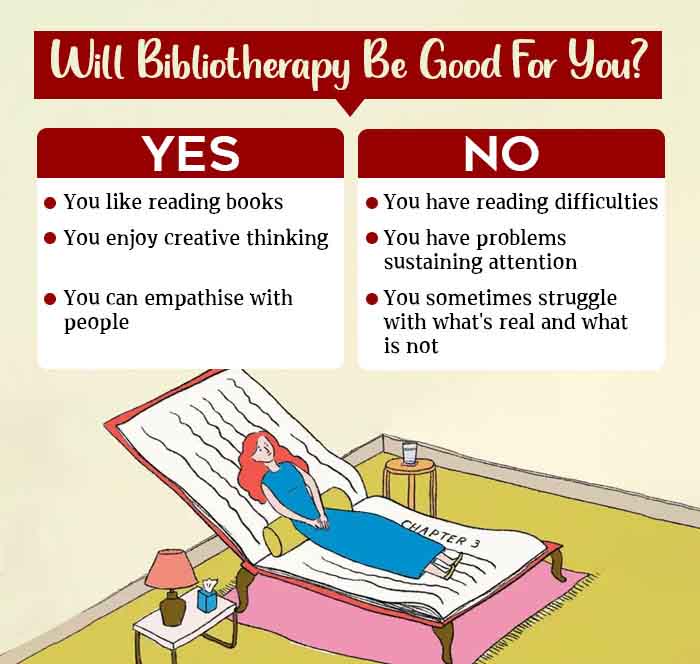 Takeaway
Bibliotherapy is a tried-and-tested non-pharmacological intervention that can be used to treat serious mental health disorders and maintain emotional well-being. The benefits of bibliotherapy in children and adults are myriad and, with further research, it can be put to greater use.
At A Glance
Bibliotherapy is the practice of reading or therapeutic storytelling to address cognitive and behavioral issues.
It is also known as "book therapy".
There are three types of bibliotherapy, namely, developmental, clinical, and creative.
It is a non-pharmacological treatment used to treat mental health disorders like depression, anxiety, etc.
Frequently Asked Questions (FAQs)
1. What is a children's bibliotherapy technique?
Children's bibliotherapy is a type of bibliotherapy directed to address children's mental and emotional needs. It primarily involves interpreting stories in which children bring their own needs and experiences.
2. Is bibliotherapy effective?
Bibliotherapy has been found to be effective in the treatment of a number of emotional, physical, and mental health problems among adults. These include anxiety, depression, eating disorders, existential concerns and relationship issues, substance use, etc.
3. What are the drawbacks of bibliotherapy?
People using bibliotherapy can get too engrossed in reading and may end up overspending on books and neglecting their daily tasks. The availability of quality materials to be used during therapy sessions may also be limited. Patients availing the therapy can also develop risks of maladaptive "inner speech" or auditory verbal hallucinations (AVHs).