Binge-watching can be a pleasurable way to unwind and relax, but it is essential to engage in moderation and remain conscious of its potential effects on health and well-being. Despite being a source of entertainment, excessive binge-watching can have adverse consequences on mental health and social life.
What is Binge Watching?
Binge-watching is the act of watching multiple episodes of a TV show or various movies in a single sitting or over a short period. It has become a popular form of entertainment in recent years due to the availability of streaming services and the ability to watch content on demand.
Binge-watching has become an advanced way 1 of consuming TV shows and movies, enabling viewers to watch entire seasons in one sitting, whether it is streaming multiple seasons over a weekend, watching all the episodes of a new season in a single day, or spending hours on YouTube.
According to a recent survey, the majority of people tend to binge-watch alone, and more than 70% of them struggle to control how many episodes they watch in one sitting. This underscores the importance of being mindful of the potential negative effects of binge-watching.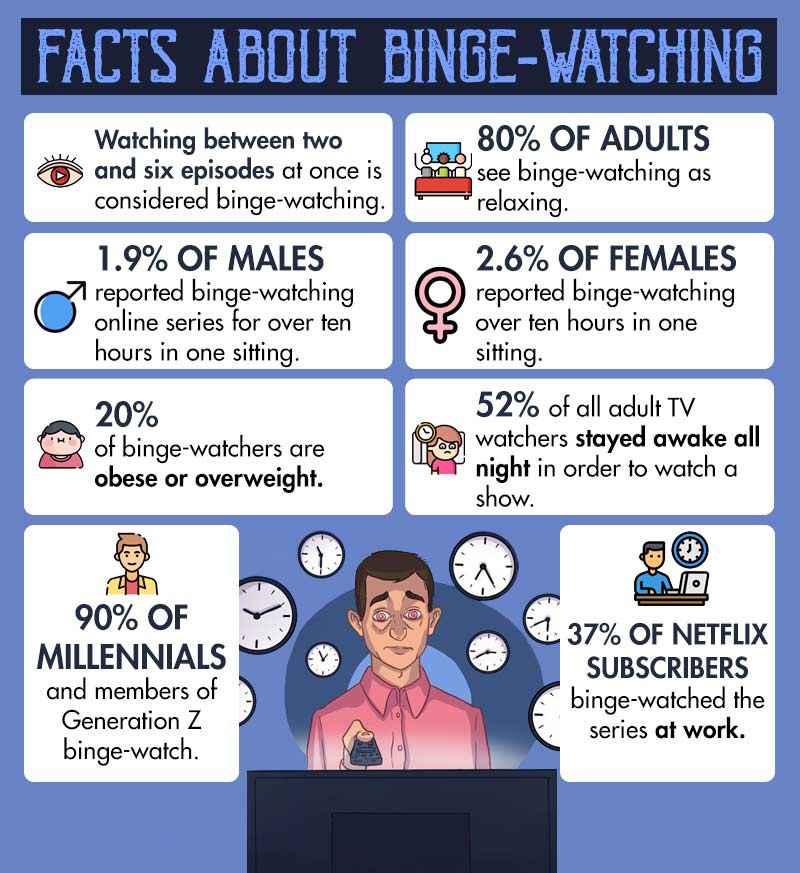 Signs of Binge-Watching
Here are some signs that someone may be binge-watching:
1. Watching Multiple Episodes in a Row
Binge-watching typically involves watching several episodes 2 of a show or multiple movies in a row without taking breaks.
2. Losing Track of Time
When binge-watching, it's easy to lose track of time 3 and realize several hours have passed.
3. Skipping Other Activities
People who are binge-watching may forego other activities, such as exercise or socializing, to continue watching their show. In extreme cases, binge-watching can lead to neglect of responsibilities 4 , such as work, school, or household chores.
4. Experiencing Physical Discomfort
Sitting for long periods can lead to physical discomforts, such as back or neck pain, eye strain 5 , or headaches.
Binge Watching and Mental Health
Here are some ways in which binge-watching can impact mental health:
1. Loneliness and Isolation
Binge-watching can lead to social isolation and reduce opportunities for social interaction 6 , which can increase feelings of loneliness.
Read More About Loneliness Here
2. Impulsivity
Individuals with the binge-watching disorder may display impulsive behavior 7 and have difficulty controlling their urge to watch TV shows or movies.
3. Cognitive Overload
Watching multiple episodes or movies in a row can lead to cognitive overload and mental exhaustion 8 , which can impact overall mental health and well-being.
4. Comparison and Self-doubt
Binge-watching can expose viewers to unrealistic portrayals of life and relationships, leading to feelings of inadequacy and self-doubt. Comparing oneself to the idealized versions of characters on screen can create feelings of low self-esteem 9 and depression.
5. Anxiety
A binge-watcher may feel anxious 10 due to the intense and prolonged viewing experience, which can disrupt their natural sleep and wake cycles, causing feelings of restlessness, irritability, and worry.
Read More About Anxiety Here
Reasons Behind Binge-Watching
Here are some potential reasons why people engage in binge-watching:
Impacts of Binge-watching on Daily Life
Binge-watching can have several impacts 16 on daily life, including:
1. Reduced Productivity
Spending hours binge-watching TV shows or movies 17 can reduce productivity and make it difficult to stay on top of tasks or responsibilities.
2. Lack of Physical Activity
Binge-watching can lead to a sedentary lifestyle 18 , which can increase the risk of health problems such as obesity, heart disease, and diabetes.
3. Sleep Disturbances
Binge-watching late at night can disrupt sleep 19 patterns and lead to sleep deprivation, which can impact mood, cognitive function, and overall health.
4. Addiction
Binge-watching can become addictive 20 , leading to a lack of control over TV-watching habits and potentially interfering with personal, social, professional, and other aspects of life.
Read More About Addiction Here
While there are potential negative impacts of binge-watching on daily life, there are also some potential positive impacts 21 , including:
1. Stress Relief
Watching TV shows or movies can be a form of stress relief and can help individuals 1 unwind after a long day or week.
Read More About Stress Here
2. Learning Opportunities
TV shows or movies can provide learning 22 opportunities, particularly for documentaries or programs that explore historical or cultural topics.
3. Shared Experiences
Watching TV shows or movies can be a shared experience that brings people together 23 and can create opportunities for bonding and connection.
4. Increased Empathy
Watching TV shows or movies that depict diverse perspectives and experiences can increase empathy and understanding of others.
Read More About Empathy Here
Coping with Binge-Watching Habits
Uncontrolled binge-watching can be managed by the following tips, including:
Takeaway
It's crucial to recognize that people's motivations for binge-watching can vary greatly, and not all binge-watching behaviors are inherently concerning. To avoid the psychological effects of binge watching, it's crucial to maintain a sense of balance and moderation in daily life.
This means being mindful of the amount of time spent binge-watching and ensuring that it does not interfere with productivity, responsibilities, and overall well-being.
At A Glance
Binge-watching refers to the act of watching multiple episodes of a television series or an entire season in a single sitting.
Watching movies and TV shows has become a popular way to spend a weekend for many people.
Signs of binge-watching may include sitting for long periods, lack of sleep, neglecting responsibilities, and losing track of time.
The pros and cons of binge watching behavior have immersive story experiences and addiction-like tendencies respectively.
Facts about binge watching reveal its increasing popularity and potentially negative effects on mental and physical health.
The psychological effects of binge-watching may include fatigue, depression, and increased anxiety.
Frequently Asked Questions (FAQs)
1. How to stop binge watching?
To stop binge-watching, it is essential to set limits, create a schedule, engage in alternative activities, and seek support if necessary.
2. What is the psychology behind binge watching?
Binge-watching can be a form of escapism, satisfy one's need for stimulation, and help to cope with negative emotions.
3. How does binge watching affect your brain?
Binge-watching can lead to the release of dopamine, which can create new neural pathways that prioritize binge-watching over other activities, leading to a decreased ability to focus on tasks. Additionally, binge-watching can disrupt sleep patterns, leading to fatigue and decreased cognitive function.