The horn effect is a cognitive bias that can have far-reaching consequences, particularly in domains like hiring and performance evaluations. This bias stems from a tendency to allow a single negative trait or behavior to create an overall impression of a person, which can result in unfair judgments regarding promotions, relationships, and more.
What Is Horn Effect?
The horn effect refers to an individual's overall perception of someone or something which is negatively influenced 1 by a single negative behavior or action, resulting in a tendency to view people as generally incompetent or untrustworthy, despite the presence of positive qualities or behaviors. It is also known as the reverse halo effect.
The halo and horn effect are opposite biases that can impact an individual's judgments of people. The halo effect 2 occurs when people have an overall positive impression of someone, which can lead individuals to see their traits or actions in a positive light, even if there is no evidence to support those perceptions.
In contrast, the horn effect occurs when people have an overall negative impression 3 of someone, ultimately, which affects not only an individual's professional life but also their personal well-being.
Examples Of Horn Effect
Here are some examples 4 of the horn effect: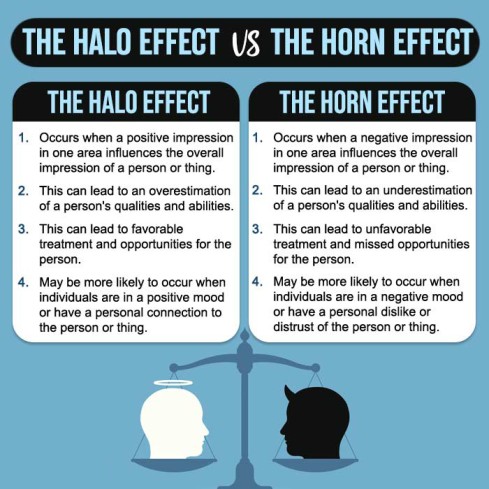 Horn Effect Bias In Recruitment
The cognitive bias of horn effect is applicable in day-to-day life and other settings, however, when it comes to job recruitment, horn effect is profound. It can be damaging as it allows:
A single negative trait or behavior of a job candidate overshadows 9 their positive qualifications and attributes
Unfair judgments of candidate's competence or trustworthiness 10
Significant negative consequences include missed opportunities for talent acquisition and a less effective workforce 11
What Causes Horn Effect
Different causes can create the horn effect bias 12 in various social situations, including:
Read More About Stereotypes Here
What Are The Effects Of Horn Effect
The horn effect can have negative mental health effects 18 on both the person being judged and the person doing the judging, such as:
If someone is repeatedly judged based on a single negative trait, it can lead to a cycle of negative thinking, which can lead to self-doubt.
Repeatedly being judged based on a single negative trait can lead to feelings of sadness, hopelessness, and social withdrawal.
The horn effect bias can make a person feel that they need to be flawless to avoid negative judgment. This can cause stress as they constantly strive to meet unrealistic expectations.
The horn effect can also contribute to a lack of empathy or understanding toward others.
The person using horn effect biases would be affected by their perception of others, leading to a more negative outlook on life.
How Does Horn Effect Impact Professional Well-being?
Here are some ways that the horn effect can create a negative impact 19 on an employee's professional life:
1. Lower Performance Evaluations
Employees who are subject to the horn effect may receive lower performance evaluations 20 or ratings, which can result in reduced compensation including not getting a bonus or lower pay.
2. Limited Opportunities for Advancement
If an employee is subject to the horn effect, they may be overlooked for promotions 21 or other career advancement opportunities, even if they are highly qualified and capable.
3. Negative Reputation
If an employee's negative traits or behaviors are the focus of the horn effect bias, they may develop a negative reputation 22 in the workplace, which can limit their ability to build positive relationships with colleagues and managers.
4. Decreased Job Satisfaction
Being subject to the horn effect can lead to feelings of frustration, demotivation, and job dissatisfaction, which can have a negative impact on an employee's overall well-being 23 and productivity.
5. Unfair Treatment
The horn effect bias can lead to unfair treatment of employees, as they may be judged more harshly than their colleagues who do not display the same negative traits or behaviors. This can create a sense of injustice and inequity in the workplace 24.
How Do You Reduce The Horn Effect
Some strategies that can help individuals overcome the horn effect bias in social situations include:
Takeaway
The horn effect can have a significant impact on how people perceive and evaluate others, often leading to biased and unfair judgments based on limited or incomplete information. By recognizing the existence of the horn effect and actively working to counteract its influence, individuals can overcome the bias and form more accurate and objective perceptions of others, which can lead to positive and equitable outcomes in both personal and professional contexts.
At A Glance
The horn effect is a cognitive bias where individuals make negative judgments about someone based on one's negative behavior.
The halo vs horn effect refers to two cognitive biases to the influence of overall impressions on judgments of specific traits or actions.
Horn effect examples include judging intelligence based on physical appearance, and assuming untrustworthiness due to negative past records.
The horn effect in recruitment is when interviewers focus on a candidate's negative traits, leading to negative judgments about their overall abilities.
The horn effect can be caused by the tendency to let one negative trait or behavior overshadow other positive qualities of a person.
The horn effect can impact professional life by unfairly influencing hiring or promotion decisions based on one negative aspect of a person.
Tips to overcome the horn effect include recognizing it, using objective measures, engaging with diversity, and maintaining an open-minded attitude.
Frequently Asked Questions (FAQs)
1. What is another name for horn effect?
The horn effect is also known as the "reverse halo effect" or the "devil effect."
2. Is horn effect positive or negative?
The horn effect is a negative cognitive bias as it involves the tendency to judge a person's overall abilities or qualities based on a single negative trait or behavior.
3. What are the advantages of horn effect?
There are no advantages of the horn effect as it is a cognitive bias that can lead to unfair judgments and negative consequences.
4. How do you overcome the horn effect?
To reduce the horn effect it is important to focus on identifying and highlighting positive qualities and accomplishments of the person, rather than solely focusing on their negative traits or behaviors. This can help to create a more balanced and accurate perception of the individual.