Living with someone with mental illness can be extremely difficult and stressful for caregivers. The demands of providing care and support can lead to emotional, physical, and financial burdens, such as feelings of guilt, social isolation, and burnout. These challenges can take a toll on caregivers' well-being and their relationships with their loved ones.
What Is It Like Living With Someone With Mental Illness?
Experiencing a mental illness can have a profound impact on various aspects of life, including personal relationships with friends and family members.
Coping with a 1 who is struggling with mental illness can be particularly challenging, as it often requires managing unpredictable mood swings and navigating crises, while also dealing with the overall impact on daily life.
Research indicates that a considerable percentage of caregivers, ranging from 32% to 71% 2, experience poor mental health outcomes such as stress, anxiety, and depression, particularly those experiencing poor health or using maladaptive coping strategies.
Caregivers may feel overwhelmed and stressed due to the demands of providing care and support, which can result in burnout and physical and emotional exhaustion. They may also experience guilt, and shame about their loved one's condition and struggle to balance their own needs with the needs of their loved one.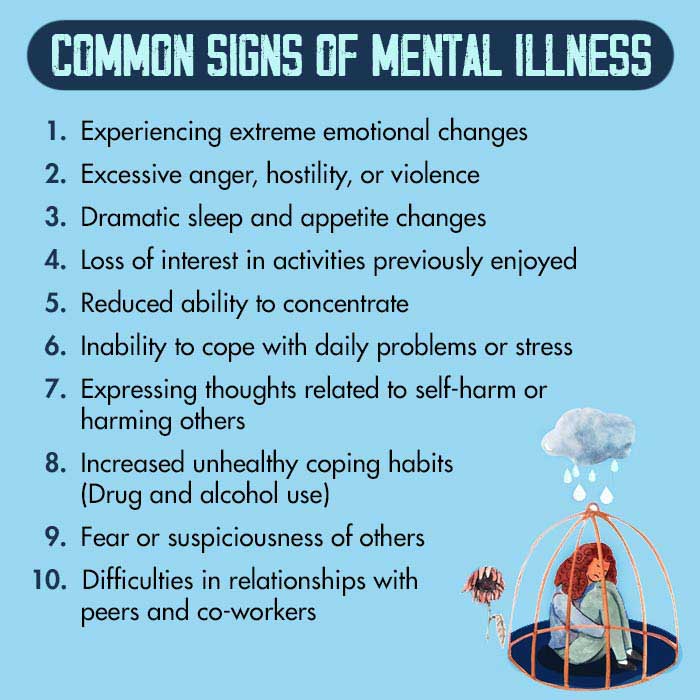 Read More About Caregiving Here
Living With A Family Member With Mental Illness
Several mental illnesses can have many significant impacts on family caregivers 3, such as:
1. Living with someone with Schizophrenia
Schizophrenia is a chronic mental illness that can cause hallucinations 4, delusions, and disordered thinking. Caregivers of people with schizophrenia may experience social isolation, financial strain from medical costs, and difficulty understanding and coping with the person's symptoms.
Read More About Schizophrenia Here
2. Living with someone with Bipolar Disorder
Bipolar disorder involves extreme mood swings 5 between high-energy manic episodes and low-energy depressive episodes. Caregivers of people with bipolar disorder may experience high levels of stress from trying to manage the person's unpredictable behavior and mood swings, as well as difficulty communicating with the person during manic or depressive episodes.
Read More About Bipolar Disorder Here
3. Living with someone with Anxiety Disorder
Anxiety disorders involve excessive worry 6 or fear about everyday situations, leading to physical symptoms like rapid heartbeat and sweating. Caregivers of people with anxiety may experience stress and burnout from constantly monitoring and reassuring the person, as well as difficulty understanding and coping with the person's fears and worries.
Read More About Anxiety Disorder Here
4. Living with someone with Autistic Spectrum Disorder (ASD)
People with ASD may be hypersensitive 7 to certain sensory stimuli, such as noise, touch, or smell and also they may have rigid routines and interests that they are unwilling to deviate from, which can make it challenging to introduce new activities or experiences.
5. Living with someone with a Personality Disorder
Caregivers of people with personality disorders may experience difficulty 8 managing the person's unpredictable or impulsive behavior, as well as difficulty understanding and coping with the person's emotional volatility and intense relationships.
Read More About Personality Disorders Here
What Causes Stress For Someone Living With Mental Illness?
Here are some possible causes of burnout or stress for caregivers or someone living with a person suffering from mental illness:
How Mental Illness Affects Relationships
Mental health symptoms or long-term illness can affect relationships in the following ways:
1. Communication Difficulties
Symptoms of mental illness, such as depression or anxiety, can make it difficult to communicate effectively with a partner. People with mental illness may withdraw from social interactions 15 or struggle to express their thoughts and feelings, leading to misunderstandings or conflicts in the relationship.
2. Changes in Behavior
Mental illness or long-term illness can cause changes in behavior 16, such as irritability, withdrawal, or mood swings, which can affect a relationship badly in many ways.
3. Changes in Intimacy
Mental illness or long-term illness can affect sexual desire 17, physical ability, or emotional connection, which can impact intimacy in a relationship.
4. Role Changes
Living with someone who has mental health issues may require one partner to take on a caregiving role 18, which can change the relationship dynamic and create new challenges.
5. Impact on Social Life
Mental illness or long-term illness can limit social activities 19 or cause isolation, which can affect the couple's social life and support system.
Tips For Helping A Loved One Cope With Mental Illness
The following are some tips that may be useful for living well 20 with a loved one with mental illness:
Takeaway
Living well and caring for someone with a mental illness requires patience, understanding, and a willingness to adapt and support each other. It is essential to recognize that mental illness is a medical condition and needs to be treated with care and compassion. However, with proper treatment and support, people with mental illnesses can lead fulfilling and productive lives.
At A Glance
Living with a family member with mental illness can have a significant impact on both the member and the family caregiver.
Caring for a loved one with a mental illness can cause emotional, and physical strain, leading to guilt, and burnout.
The presence of mental health issues in a loved one can be stressful due to the judgment of others and financial strain.
Mental health symptoms can affect relationships including communication difficulties, behavioral changes, and social isolation.
Caregivers of individuals with mental illness should provide emotional support, educate themselves, and seek professional help.
Frequently Asked Questions (FAQs)
1. What are some common symptoms of mental illness?
Common symptoms of mental illness can vary depending on the specific diagnosis, but can include changes in mood, behavior, and thought patterns, such as in cases with depression, anxiety, irritability, paranoia, hallucinations, and delusions.
2. How to live with someone who has a mental illness?
Living with someone who has mental illness involves creating a supportive environment, encouraging treatment and therapy, seeking for support and help, setting boundaries, and practicing self-care.