Alcohol withdrawal is a syndrome (AWS) characterized by a range of physical and psychological symptoms that individuals can experience when they suddenly stop or reduce their alcohol consumption after a period of heavy or prolonged drinking. This condition can range in severity from mild to life-threatening, especially in cases of severe alcohol dependence.
What Is Alcohol Withdrawal?
Regular alcohol consumption can lead to physical dependence 1, which causes the body to adapt to the presence of alcohol. If alcohol consumption is abruptly stopped, it can trigger a range of uncomfortable and potentially dangerous alcohol withdrawal syndrome symptoms.
These symptoms typically begin within hours to days after the last drink and can persist for several weeks and may include tremors, sweating, anxiety, irritability, hallucinations, and seizures.
Alcohol withdrawal is a prevalent occurrence 2 that impacts individuals who frequently and heavily consume alcohol. Studies estimate that approximately 50% of individuals with alcohol use disorder experience alcohol withdrawal symptoms.
The prevalence of alcohol withdrawal may vary across different populations and regions, but research suggests it is more common among men than women and tends to occur more frequently in individuals with a history of alcoholism.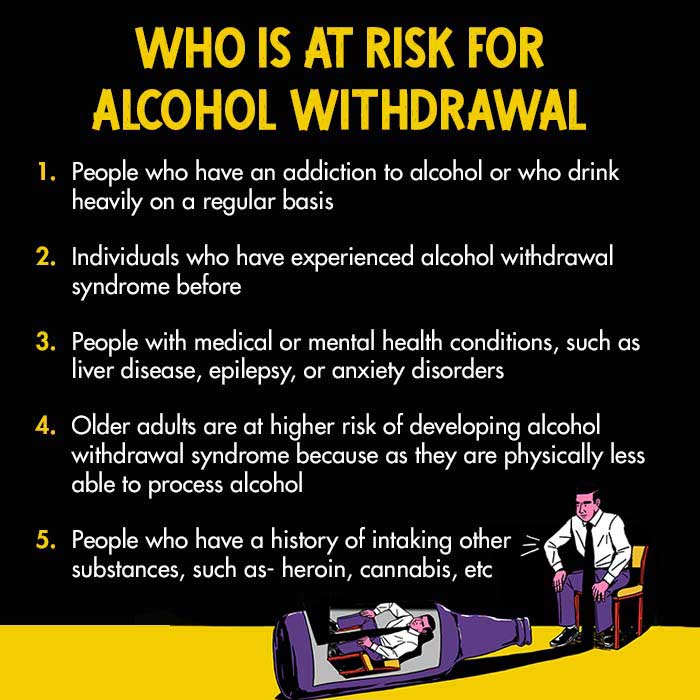 Read More About Alcoholism Here
Alcohol Withdrawal Symptoms
Here is a timeline 3 of alcohol withdrawal symptoms that an individual may experience:
1. Minor Withdrawal Symptoms
Typically, individuals experience mild 4 withdrawal symptoms within 6-24 hours after their last alcohol intake.
While uncomfortable, these symptoms are not life-threatening and include expected effects such as:
Shaky hands
Abdominal pain
Headaches
Nausea
Vomiting
Insomnia
Read More About Insomnia Here
2. Major Withdrawal Symptoms
The condition of major withdrawal is a severe and disturbing state that typically sets in between 10 to 72 hours 5 after the last alcohol consumption.
It is characterized by various symptoms that may include:
Visual hallucinations (seeing things that are not there)
Auditory hallucinations (hearing things that are not there)
Tremors affecting the whole body
High blood pressure
Intense sweating
3. Withdrawal Seizure Symptoms
Alcohol withdrawal seizures, also known as "rum fits 6," can occur 6-48 hours after the last drink, causing seizures in those without a seizure history.
The severe withdrawal stage is marked by:
Delirium tremens (DTs 7), appear to cause confusion
Hallucinations (both visual and auditory)
High fever
Rapid heartbeat
Seizures in some people 48-96 hours after quitting drinking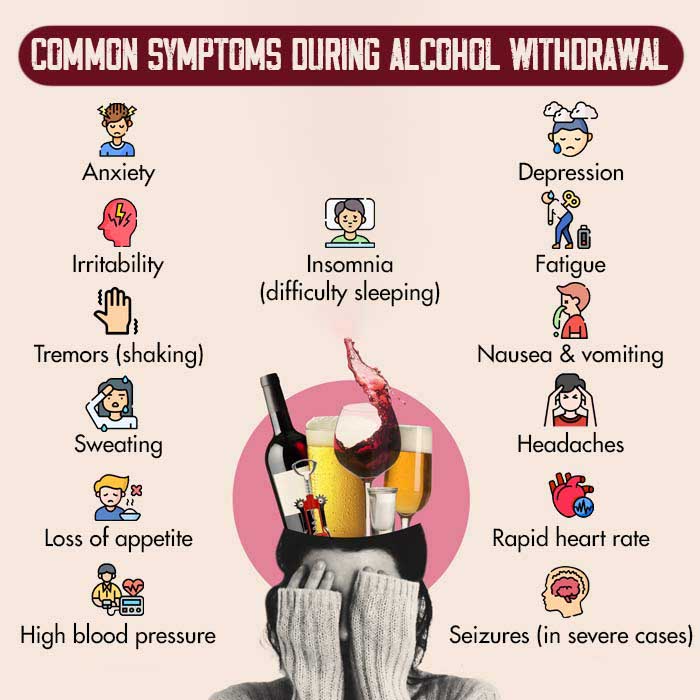 What Does Alcohol Withdrawal Feel Like
Alcohol withdrawal can lead to different feelings 8 for each individual, such as:
Feeling of nervousness
Irritability or mood swings
Difficulty in making rational decisions
Becoming hostile, aggressive, or violent
Feeling embarrassed or ashamed of their condition
Isolating themselves from friends and family
Factors Affecting Alcohol Withdrawal
Several risk factors can contribute to 9 the development of alcohol withdrawal syndrome (AWS), including:
Effects Of Alcohol Withdrawal On Mental Health
Alcohol withdrawal can affect your mental health 15 to a great level. Here are some of the most common mental health effects of alcohol withdrawal:
People who are withdrawing from alcohol, often experience feelings 16 of anxiety, such as restlessness, sudden or intense episodes of fear, etc.
Withdrawal from alcohol can also cause feelings of depression 17. This can be especially challenging for individuals who have a feeling of sadness or emptiness, loss of interest in activities, etc.
During alcohol withdrawal, some people can become irritable and easily agitated. This can be due to the stress related to the withdrawal process and the presence of other physical symptoms.
Alcohol withdrawal can make it difficult to concentrate or focus on tasks, which can be frustrating and impact an individual's ability to function at work or in their personal life.
In severe cases of alcohol withdrawal, individuals can experience confusion and disorientation. This can be dangerous and require medical attention.
Diagnosing Alcohol Withdrawal Syndrome
Alcohol Withdrawal Syndrome (AWS) is typically diagnosed based 18 on a combination of clinical symptoms and a history of heavy alcohol use. Here are some of the ways that AWS is typically diagnosed:
1. Clinical Assessment
A healthcare provider typically performs a clinical assessment to determine if an individual is experiencing symptoms of AWS, which may include a physical examination and a review of medical and alcohol use history.
2. Diagnostic Criteria
The Diagnostic and Statistical Manual of Mental Disorders (DSM-5) includes criteria for diagnosing 19 AWS. To meet the criteria, an individual must have a history of heavy alcohol use, and they must be experiencing at least two of the following symptoms: tremors, sweating, anxiety, nausea or vomiting, insomnia, hallucinations, or seizures.
3. Blood Tests
Blood tests may be used to evaluate liver function and identify other medical conditions that could be contributing to the individual's symptoms.
4. Alcohol Screening
If these symptoms arise shortly after heavy and prolonged alcohol consumption, the individual may be diagnosed with alcohol withdrawal. Subsequently, the clinician would suggest a suitable level of care to manage these symptoms.
Alcohol Withdrawal Treatment
The severity of symptoms determines the treatment 20 approach for alcohol withdrawal syndrome. While some individuals can receive treatment at home, others may require supervised care in a hospital to prevent risky complications, such as seizures.
There are different treatment measures that can be taken for Alcohol Withdrawal Syndrome. Some of these measures include:
How To Get Through Alcohol Withdrawal
Alcohol withdrawal syndrome can be a challenging 25 and potentially life-threatening experience. If someone is experiencing alcohol withdrawal, seeking medical attention is essential. Once medical care is established, here are the best ways of alcohol detoxification 26:
Seek medical attention, as alcohol withdrawal can be life-threatening.
Practicing self-care, such as getting enough sleep, eating a healthy diet, and exercising, can help you manage the symptoms and stay focused on your recovery.
Lean on family and friends for emotional support and distraction from symptoms.
Attend support groups such as Alcoholics Anonymous 27 to connect with others who have similar struggles and find support.
Consider rehab for structured support, therapy, and medical assistance.
Join local clubs or engage in healthy hobbies to gain a sense of community feeling and purpose.
Consider therapy to address underlying mental health issues or addiction triggers.
Takeaway
Alcohol Withdrawal Syndrome (AWS) is a serious condition that can occur when heavy or prolonged alcohol use is stopped. The stages of alcohol withdrawal typically progress from mild symptoms such as anxiety and tremors to more severe symptoms such as seizures and delirium tremens, which may require medical attention. So, it is important to seek help if an individual is experiencing signs of alcohol withdrawal.
At A Glance
AWS is a potentially dangerous condition that can occur when individuals stop drinking after heavy or prolonged alcohol use.
Symptoms of AWS can range from mild to severe and can include anxiety, tremors, nausea, sweating, hallucinations, seizures, and delirium tremens.
AWS can be a potentially life-threatening condition and should be treated as a medical emergency.
The best way to detox from alcohol depends on individual circumstances, but it typically involves seeking medical supervision.
Treatment for AWS may include medications to manage symptoms, monitoring vital signs, and support for withdrawal symptoms such as anxiety and depression.
Long-term treatment for alcohol dependence may be necessary to prevent future episodes of AWS and improve overall health and well-being.
Frequently Asked Questions (FAQs)
1. When does alcohol withdrawal start?
Alcohol withdrawal typically starts within 6 to 24 hours after an individual stops drinking, although in some cases it may start as early as two hours after the last drink.
2. How long does alcohol withdrawal last?
The duration of alcohol withdrawal varies based on factors such as the level or severity of dependence, and underlying conditions. Mild-moderate symptoms may last days-weeks, and severe symptoms like delirium tremens may last for several days to a few weeks.
3. Do Mental Health Disorders Affect Your Withdrawal Symptoms?
The relationship between mental health and alcohol withdrawal is complex, as individuals with preexisting mental health disorders may be more susceptible to developing alcohol dependence and can experience more severe withdrawal symptoms when attempting to quit drinking.