Performance anxiety is a type of anxiety that can affect individuals of all ages and backgrounds. This type of anxiety can be so severe that it can significantly impact an individual's ability to perform well or even participate in an activity, and can have a negative impact on their personal and professional lives.
What is Performance Anxiety?
Performance anxiety is characterized by intense fear, worry, and nervousness surrounding the performance of a specific task or activity, such as public speaking, musical performances, athletic competitions, and artistic performances. People may also experience physical symptoms such as sweating, shaking, nausea, or an increased heart rate, which can further exacerbate anxiety.
Performance anxiety is a common experience, with up to 30% 1 of individuals experiencing fear when speaking in public. While not explicitly listed as a diagnosis in the DSM-5 2 , performance anxiety is considered a subtype of social anxiety disorder, which is included in the manual, which signifies that the symptoms and criteria for social anxiety disorder can also be applicable to performance anxiety as well.
Certain factors may increase an individual's susceptibility 3 to performance anxiety. For example, past negative experiences, a high level of self-doubt, or a history of anxiety disorder or other mental health conditions can all contribute to the development of performance anxiety.
Read More About Anxiety Here
Signs of Performance Anxiety
Here are some basic signs that may be observed in performance anxiety
Performance anxiety in children:
Extreme shyness 4 or clinginess.
Fear or avoidance of participating in school or extracurricular activities.
Excessive worry about 5 making mistakes or failing.
Physical symptoms such as stomachaches, headaches, or nausea 6 before a performance.
Crying, tantrums, or pleading not to participate 7 .
Inability to concentrate or remember lines 8 or choreography.
Performance anxiety in adults:
Extreme nervousness or fear before or during a performance.
Physical symptoms such as sweating 9 , shaking, or rapid heartbeat.
Avoidance of performance situations or procrastination 10 .
Negative self-talk or self-doubt 11 .
Difficulty concentrating or remembering lines or choreography.
Self-medicating with drugs or alcohol 12 before a performance.
Types of Performance Anxiety
Here are some types 13 of performance anxiety that may occur in both adults and children:
1. Public Speaking Anxiety
This is the most common type of performance anxiety and refers to the fear of speaking or presenting in front of an audience. This can occur in both adults and children and may be triggered by various factors such as fear of embarrassment or failure.
2. Test-taking Anxiety
Test-taking anxiety is a type of performance anxiety that is triggered by the prospect of taking an exam 14 . This can result in symptoms such as sweating, rapid heartbeat, and difficulty concentrating.
3. Performance Anxiety in Sports
This type of performance anxiety is common among athletes and refers to the fear of performing poorly 15 in a game or competition. This can result in symptoms such as shaking, nausea, and tension.
4. Musical Performance Anxiety
Musicians, both amateur and professional, may experience performance anxiety when playing/singing in front of an audience. This can result in performance anxiety symptoms 16 such as trembling, sweating, and forgetfulness.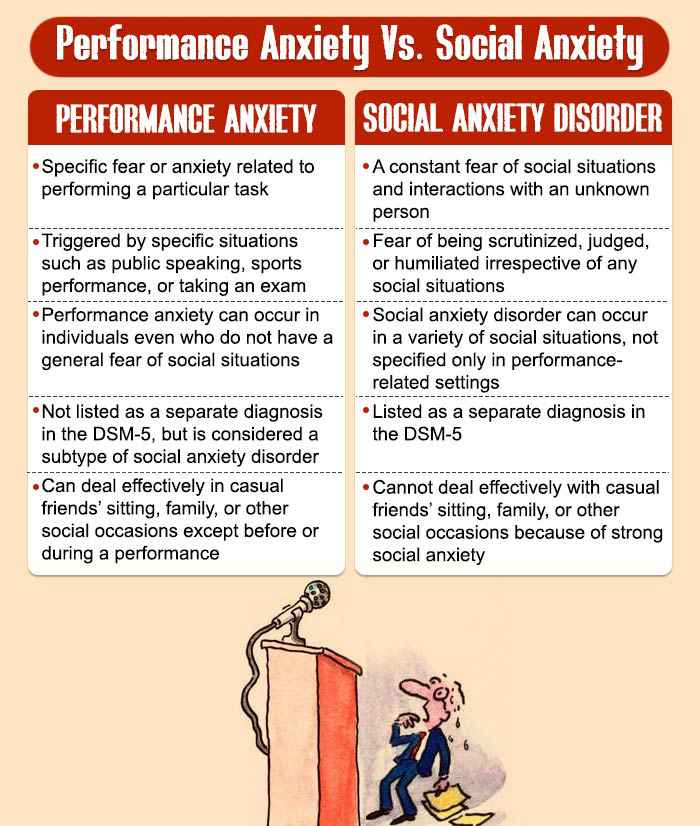 Causes of Performance Anxiety
Performance anxiety in children can be caused by a variety of factors 17 , including:
1. Lack of Experience
Children who have not had experience performing in front of others may feel unsure about how to behave, what the audience's reaction will be, or to what extent they will be judged–these make children anxious during their performance.
2. Fear of Failure
Children who have a fear of failure 18 may become anxious about performing, as they may feel the pressure that they will not be able to perform well enough and will disappoint their parents or teachers.
3. Bullying or Teasing
Children who have been bullied 19 or teased by peers may become anxious about performing in front of others, as they worry about being judged or ridiculed.
Read More About Bullying Here
4. Genetics
There may be a genetic component 20 to performance anxiety, as some children may be more prone to anxiety than others due to their genes.
Read More About Genetics Here
5. Negative Self-talk
Negative self-talk 21 in children can lead to anxiety and self-doubt, causing them to feel incapable or unworthy of success. This can result in a lack of confidence and avoidance of certain tasks or situations.
Common causes of performance anxiety in adults include:
1. Negative Past Experiences
Adults who have had negative experiences 22 in similar situations, such as failing or being judged or criticized, may become anxious about similar future performances.
2. High Expectations and Perfectionism
Adults who may have high expectations 23 for themselves and a strong need to be perfect can make them worry about making mistakes or not meeting their high standards.
Read More About Perfectionism Here
3. Lack of Confidence
Adults who lack confidence in their abilities 24 may become anxious about their performance, as they worry about not being able to perform well.
4. Stressful Life Events
Adults who are going through stressful life events 25 , such as a divorce or job loss, may become anxious about their performance as a result of the stress.
5. Physical and Mental Health Symptoms
Mental health conditions such as depression 26 can lead to feelings of hopelessness and low self-esteem, while anxiety can cause physical symptoms like sweating and trembling, which altogether can distract and affect an individual's performance level.
Diagnosing Performance Anxiety
When it comes to diagnosing performance anxiety, there are several tools and steps 27 that a mental health professional may use:
1. Clinical Interview
The first step is a clinical interview, where the professional may ask questions about symptoms 28 , medical history, and personal background.
2. Observation
The mental health professional may also observe an individual 29 during a performance to assess his/her anxiety level and other symptoms.
3. Physical Exams
In some cases, a medical examination 30 may be necessary to rule out any underlying medical conditions that may be contributing to the symptoms of performance anxiety.
4. Psychological Assessments
A mental health professional may also use standardized psychological assessments 31 to help diagnose performance anxiety. These assessments can include:
Treating Performance Anxiety
Here are some common treatment options 36 for both children and adults with performance anxiety:
1. Cognitive-behavioral Therapy (CBT)
CBT is a type of therapy that helps individuals identify and change negative thoughts and beliefs that contribute to anxiety 37 . It can be effective in treating performance anxiety by helping individuals develop coping skills and strategies for managing their symptoms during performances.
Read More About Cognitive Behavioral Therapy (CBT) Here
2. Mindfulness-based Interventions
Mindfulness-based interventions such as meditation and yoga 38 can help individuals develop greater awareness and acceptance of their thoughts and emotions, which can reduce anxiety and improve performance.
Read More About Mindfulness Here
3. Relaxation Techniques
Relaxation techniques, such as deep breathing, muscle relaxation 39 , and visualization, can be effective in reducing symptoms of anxiety before and during performances.
4. Medication
Beta-blockers, benzodiazepines, and antidepressants, such as selective serotonin reuptake inhibitors (SSRIs) are medications 40 that may be used to treat performance anxiety. They can help regulate mood and reduce symptoms of anxiety that contribute to their performance output.
Tips to Overcome Performance Anxiety
Several strategies 41 can help individuals overcome performance anxiety, including:
1. Identify and Challenge Negative Thoughts
It can be helpful to identify and challenge these negative thoughts by asking yourself if they are realistic or if there is evidence to support them.
2. Gradual Exposure
Gradually expose yourself 42 to the situation that triggers your anxiety. Start with a less anxiety-provoking situation and work up to the more challenging ones. This can help desensitize you to the situation and reduce anxiety over time.
3. Positive Self-talk
Use positive self-talk 43 to reinforce a positive attitude and belief in your abilities. Focus on your strengths and past successes rather than dwelling on potential failures.
4. Coaching and Rehearsal
Working with a coach or rehearsing a performance 44 can help you to build confidence and reduce anxiety. The coach can provide feedback and support to help you feel more prepared and confident in your performance.
5. Practice Self-care
Take care of yourself both physically and emotionally. Make time for activities that you enjoy, such as exercise 45 , reading, or spending time with loved ones.
6. Seek Support
Seek support 46 from friends, family, or a mental health professional. Support can help you feel less alone and provide a safe space to talk about your performance anxiety.
Takeaway
It's important to remember that seeking professional support can be beneficial, especially for those experiencing severe or persistent performance anxiety. With the right tools and support, individuals can learn to perform to the best of their abilities and achieve their goals, even in high-pressure situations.
At A Glance
Performance anxiety is a type of anxiety triggered by high-pressure situations where an individual is expected to perform in front of others.
Signs of performance anxiety include physical and psychological symptoms such as rapid heartbeat, sweating, fear of failure, and negative self-talk.
Causes of performance anxiety include negative past experiences, fear of judgment or failure, pressure to perform, and other biological factors.
Diagnosis of performance anxiety involves a physical exam, psychological evaluation, and assessment of symptoms and medical history by a mental health professional.
Treatment for performance anxiety includes therapy, medication, relaxation techniques, and lifestyle changes, and is personalized to the individual's needs.
Frequently Asked Questions (FAQs)
1. How to prevent performance anxiety?
Preparation, practice, and positive self-talk can help prevent performance anxiety.
2. How to treat performance anxiety?
Cognitive-behavioral therapy (CBT), medication, and relaxation techniques can be effective treatments for performance anxiety.
3. What triggers performance anxiety?
Performance anxiety can be triggered by fear of failure, negative self-talk, lack of preparation, or negative past experiences.
4. How to break the cycle of performance anxiety?
Breaking the cycle of performance anxiety involves identifying and addressing the root cause of anxiety, practicing coping strategies, and gradually exposing oneself to the feared situation while focusing on positive outcomes.