Social media comprises interactive technologies (websites and applications) that focus on communication as well as the creation and sharing of information over the Internet. It is popularly viewed as the facilitator of human interaction and social connectivity—because of this, research affirms that social media and mental health are intricately linked.
How Does Social Media Affect Mental Health Positively?
Social media is central to overcoming barriers of distance and time, as it allows us to connect with others and expand and strengthen networks and interactions. Such social connections can yield great physical and mental health benefits for people in their daily lives.
How Does Social Media Affect Mental Health In Teens?
As children are growing up, social media can help them find a voice and discover themselves in a lot of ways, such as:
1. Establishing self-identity
Studies on social media and mental health reveal that digital rhetoric is often used by teenagers to identify preferable cultural groups and establish self-identity.
Especially for teenagers belonging to the LGBTQIA+ community, social media can be a great tool to access information about identity, express identity, or provide support. They can openly engage with a communal gay culture, experiment with nonheterosexual intimacy, and socialize with other LGBTQ youth.
2. Improving self-esteem
Social media not only provides a sense of connectedness and support but also a sense of validation that is much needed in the "coming-of-age" years. Teenagers often learn self-presentation and get a platform for self-disclosure, which helps boost their self-esteem, self-worth, and self-confidence.
3. Develop social skills
Social media also helps adolescents create and maintain meaningful interpersonal relationships. Especially for shy and introverted adolescents, social media can provide confidence and help develop interpersonal communication skills that can also be used 'offline'.
4. Nurture creativity
A majority of teenagers use social media sites to express their creativity and share their talents. Social media can also be a source of creative inspiration for youngsters.
Feedback on these shared pieces of writing, art, or music can allow them to develop their creative talents and may facilitate interaction with those who have similar talents or interests.
How Does Social Media Affect Mental Health In Youth And Adults?
Research 1 Naslund, J. A., Bondre, A., Torous, J., & Aschbrenner, K. A. (2020). Social Media and Mental Health: Benefits, Risks, and Opportunities for Research and Practice. Journal of technology in behavioral science, 5(3), 245–257. https://doi.org/10.1007/s41347-020-00134-x on mental health and social media attests to several positive effects of social media on mental health of adults:
1. Better sense of identity
Social media platforms provide an environment in which youth and young adults can explore their identities and ideologies. They can access information easily and this can help in shaping their identities, ideologies, and belief systems.
2. Social support
Youth and young adults can connect with similar groups of people over social media. This ready access to a peer support network can help them experience the understanding and social support that may not always be available in real life.
3. Developing interpersonal relationships
The positive impact of social media on mental health of youth is significant, especially when it comes to facilitating social interactions. Sometimes, friendships forged or revived over social networks are special, long-lasting, and meaningful. These fulfilling interpersonal relationships serve to boost their self-esteem, self-worth, and social skills. This is how social media affects your mental health.
How Does Social Media Affect Mental Health In The Elderly?
The use of social media reserves a number of benefits 2 Fu, L., & Xie, Y. (2021). The Effects of Social Media Use on the Health of Older Adults: An Empirical Analysis Based on 2017 Chinese General Social Survey. Healthcare (Basel, Switzerland), 9(9), 1143. https://doi.org/10.3390/healthcare9091143 for the elderly, namely:
1. Decreased isolation
Social media facilitates and boosts human connectivity. Peer networks forged online and online communication with loved ones reduce isolation and loneliness in the elderly population.
2. Lowered risk of depression and other diseases
Studies have also shown that Increased opportunities for social networking reduce social isolation and the risks of associated diseases, including:
Depression and anxiety
Cardiovascular diseases
Coronary diseases
Dementia
Poor biological health
Early mortality, etc.
3. Better social adjustment
Studies show that the strong social cohesion created by the use of social media helps older people fulfill their social expectations and empowers them to develop better social adjustment skills. Social media groups also create opportunities for socialization in volunteering and community services—thereby contributing to better mental health.
4. Accessibility to mental health resources
Social media affects your mental health in old age by giving you access to online interventions (like e-therapy). These interventions help the elderly with mobility and disability issues seek healthcare resources. These resources are mostly cost-effective and readily available, helping them maintain their mental and physical health from the comfort of their homes.
How Does Social Media Affect Mental Health Negatively?
Social media experiences involving inauthenticity, cyberbullying, online trolling, and personal and professional comparisons may result in negative effects such as reduced self-perception and inadequacy about life or appearance.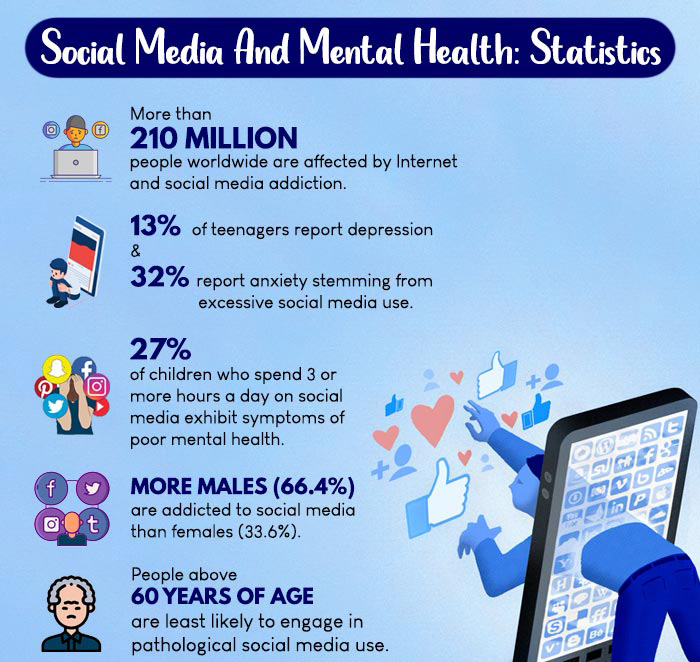 Certain social media-related experiences related to romantic swindling, financial fraud, and revenge porn can also have a negative impact on a person's mental health.
Excessive social media use can also lead to internet usage disorder, social media addiction, and doomscrolling. Research 3 Aydin, S., Koçak, O., Shaw, T. A., Buber, B., Akpinar, E. Z., & Younis, M. Z. (2021). Investigation of the Effect of Social Media Addiction on Adults with Depression. Healthcare (Basel, Switzerland), 9(4), 450. https://doi.org/10.3390/healthcare9040450 further shows that the disordered use of social media can trigger several mental health disorders and conditions like:
Self-esteem issues
Depression [Read more]
Anxiety [Read more]
Fear of missing out (FOMO) [Read more]
Syndromes like ringxiety, selfitis, etc.
Isolation and loneliness [Read more]
Social withdrawal
Behavioral disorders (linked to anger, frustration, etc.)
Body dysmorphia
Eating disorders [Read more]
Substance use disorders
Sleep disorders [Read more]
Body aches and pain
Obsessive-compulsive disorders [Read more]
Self-harm and suicidal tendencies [Read more]
Read About Social Media Addiction Here
Takeaway
The use of social media can affect your mental health both positively and negatively. If its excessive and unhealthy use remains unchecked, it can result in several crippling mental health conditions that impact your life, normal functioning, and social relationships.
Its proper use and the timely diagnosis of mental health disorders like social media addiction mean that you can address its long-term consequences early on and enjoy a happier, more fulfilling life.
At A Glance
Social media involves interactive technologies that facilitate social interaction and connectivity over the Internet.
Its use is associated with reduced loneliness, better identity formation, greater self-esteem, and more meaningful relationships.
Its excessive use can trigger a pathological dependence on social media and an obsessive preoccupation with internet activities.
Unhealthy use of social media is linked to poor mental health conditions like depression, body-image issues and eating disorders, etc.
Disordered use of social media is most prevalent among the adolescent, the youth, and the adult population.
References:
1

Naslund, J. A., Bondre, A., Torous, J., & Aschbrenner, K. A. (2020). Social Media and Mental Health: Benefits, Risks, and Opportunities for Research and Practice. Journal of technology in behavioral science, 5(3), 245–257.

https://doi.org/10.1007/s41347-020-00134-x

2

Fu, L., & Xie, Y. (2021). The Effects of Social Media Use on the Health of Older Adults: An Empirical Analysis Based on 2017 Chinese General Social Survey. Healthcare (Basel, Switzerland), 9(9), 1143.

https://doi.org/10.3390/healthcare9091143

3

Aydin, S., Koçak, O., Shaw, T. A., Buber, B., Akpinar, E. Z., & Younis, M. Z. (2021). Investigation of the Effect of Social Media Addiction on Adults with Depression. Healthcare (Basel, Switzerland), 9(4), 450.

https://doi.org/10.3390/healthcare9040450